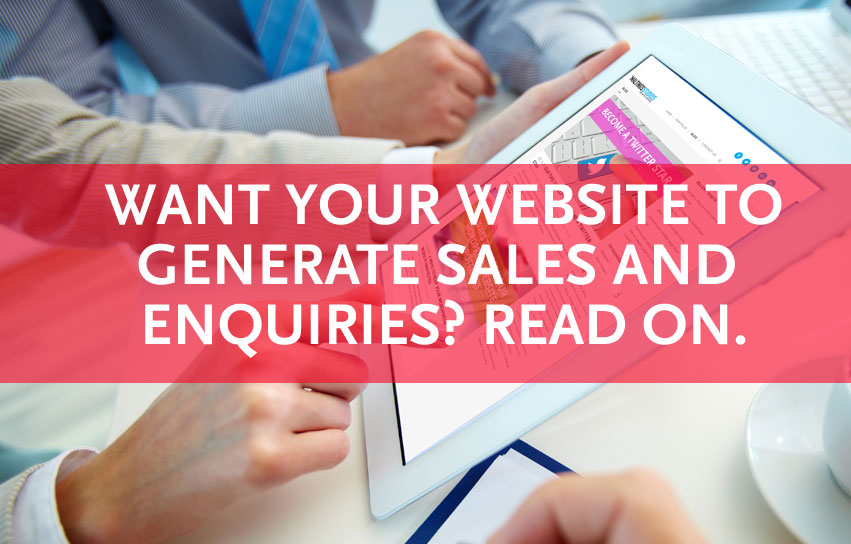 20 Jun

Does your website generate sales and enquiries?

If not why not? As web designers we've had lots of experience with businesses that have websites but don't do anything with them. They go to the trouble of paying for a website to be built simply for the sake of it. Ok, it may look good, be mobile friendly but that is where it ends.

Take ten minutes and really consider what you as a business require from your website. Most companies want to drive traffic to their website, generate leads and make sales? Now think like a customer.

Take a look at your website from a users point of view. Your visitors want to know "Am I in the right place?" followed by "How long is this going to take?". In reality you probably only have about 10 seconds in which to capture a user's attention. Here are a few really common sense tips that could help your website straightaway.

• Put your most important information 'above the fold' so users see it straightaway
• Make sure your telephone number, email address and postal address are clearly visible on your website's homepage
• Keep your website navigation simple, guide users to the relevant information straightaway
• Does your website answer the question of why should I buy from you instead of a competitor?
• Break up long blocks of content into small, easily read paragraphs. This will make legibility on a mobile screen easier
• Your 'call to action is an offer, voucher or a discount. Is your website's 'call to action' easily visible?
• To encourage more engagement with your 'call to action', try changing it for example try 'Order Now' instead of 'Buy Now'
• Don't be afraid of whitespace on your website. It can draw users to your key message

It is so easy to fall into the trap of forgetting about your website, but here at The Maltings Studios we can really help you make your website become an effective marketing and communication tool for your business. We don't use technical language and we can take you through easy to implement steps that will have your website growing organic rankings and sales enquiries.

Why not call The Maltings Studios to go through your next project. We can give you an estimate and take you through the steps you need to get your website up and running. We can help improve your existing website or breathe new life into it with exciting new features or content. We are web designers based in Hertford, Hertfordshire and have a proven track record in web design, plus we are very nice people!