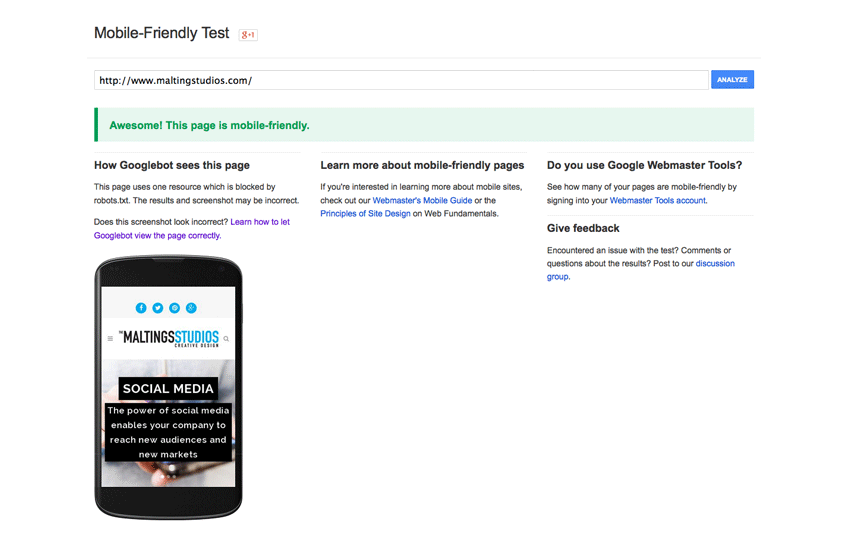 23 Apr

Google announces mobile-friendliness as a ranking signal

A couple of weeks ago, I put out 2 tweets saying the following "Google is increasingly about how mobile friendly your site is. It is not enough to just have a responsive site" and "Did you know Google offers a free online testing tool to see if your website is mobile friendly" How did I know all this? Google has been dropping hints about it's intentions since the begining of the year, so it was no surprise, but on Tuesday 21st April 2015 Google released a statement, part of it read:

"Starting April 21, we will be expanding our use of mobile-friendliness as a ranking signal…….This change will affect mobile searches in all languages worldwide and will have a significant impact in our search results."

Google could not have been more specific. If your or your client's website is not mobile friendly or responsive, you will soon start to see that site lose Google search engine rankings and in turn drop pages.

So why has Google changed it's algorithm? It is believed that over 30% of organic traffic originates from mobile devices and we know that mobile web use is quickly rising. So it is this increase in mobile web use that is driving Google, plus, they believe all web users should have the best online experience possible by easily finding relevant, useful content, in response to a defined search term.

You may be asking yourself whether your website is now going to be penalised? Not necessarily. Google put together some free web tools in anticipation of this change. You can check if your site is mobile friendly by simply going to www.google.com/webmasters/tools/mobile-friendly/ and entering the URL of the site you wish to check. If the site is responsive, Google gives you 'Awesome'. If not, it will tell you why not and will offer you guides explaining how to solve the problems specific to your website.

Make the changes you need to make now. Check all the websites you look after, let your client's know. Don't ignore it, the future of the internet is mobile and it is going to be very exciting!