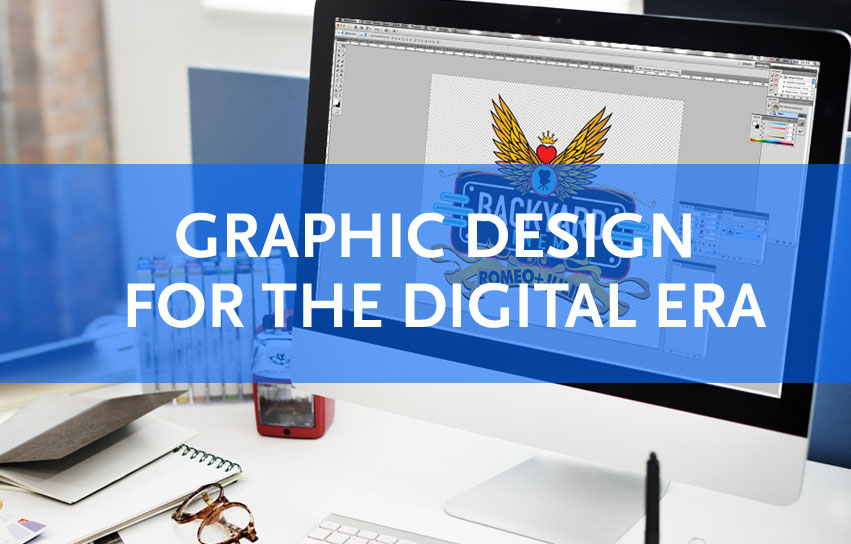 06 Sep

Graphic Design for Digital

Graphic design and web design have changed considerably over the last five years and indeed continues to do so with a pace. As graphic designers we too have had to change the way we communicate our ideas across all platforms and mediums in order to meet these new challenges.

Pre digital, a graphic designer would only have one outlet to design for and that was print. Now in this amazing digital era we need to be mindful of how our designs will work across the web, and different devices/platforms. Plus, we need to integrate those ideas into social media to still communicate what our client wants to say and still have impact.

The definition of graphic design has been described as 'the art or skill of combining text and pictures in advertisements, magazines, or books'. That now seems a rather simplistic description (unless you work in a niche market!). Most of us working as graphic designers have added many new disciplines to our talents in order to thrive in this digital age.

But graphic design is going strong and still all around us. From the digital designs on our phones when we browse the web to light boxes at a bus stop displaying the latest film release. It doesn't matter whether we are called graphic designers or digital designers, the task remains the same, we visually communicate our client or brands message to a targeted audience.

Here at The Maltings Studios our talented graphic designers have a wealth of knowledge and experience in graphic design and web design. Each one designs for advertising, brand identity, web design, branding and digital design. Each has the ability to see the bigger picture and implement our clients brief to gain maximum impact.

Problem solving also becomes a large part of what we do. A design may work in print but not on the web, so how do we fix that without losing sight of the original brief? The answer is time – we take the time to work these concepts through to make sure they work. Why? because each one of our team is passionate about what they do.

It takes talent, time and hard work to be a successful graphic designer because we need to be multi talented as our works needs to: communicate, narrate, promote, inform, explain and sell a multitude of products and services to different audiences across all platforms and media. Plus, we also need to be patient listeners. Without listening to everything our client wants to say about their brand we would be nowhere.

It's funny how even our most experienced graphic designers still get a thrill when we launch a new website or a brochure lands on their desk fresh off the press with that new ink smell.

So do you need a graphic design service? Give us a call at The Maltings Studios, our graphic designers are primed and rearing to go!