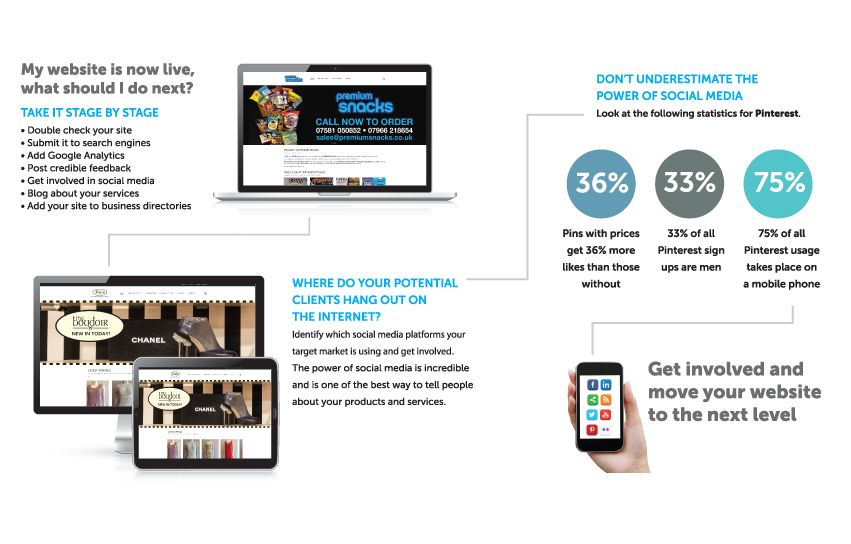 15 Jul

Marketing your website?

We recently built 2 ecommerce sites for clients in very different industries. Great, everyone is happy but now the real work starts. Just because you have an ecommerce site it doesn't mean people are going to be able to find it. You need to market your site and get it noticed by search engines. Ok, well how are you going to do this?

Take it stage by stage
• Double check your site
• Search engines
• Google Analytics
• Credible feedback
• Social media
• Blog
• Business directories

Shopping experience
This is just common sense, but ask a trusted friend for their opinion on your site. Sometimes you are so close to a project it is hard to be objective. They may come back with negative comments but don't be offended, those comments could help you improve your website's online experience.

Search engines
If your web designer know's their job, they will already have added a site map to your website. But, it is worth asking the question as it would probably have been the last thing they did before going live and we all make mistakes! Now, every time you amend your site, the site map will automatcally let the search engines like Google and Bing know.
It is worth considerng adding your site to shopping search engines. These are paid for comparison sites and dependent on your product and budget.

Google Analytics
Make sure Google Analytics is added to every page of your website. This is a free tool which will allow you to chart your website's progress and how your improvements influence traffic to your website. But, you must keep at it!

Credible feedback
Feedback from purchasers is so important for an ecommerce site. It will give your site credibility and show users you are trustworthy. Putting Trustpilot on your site is a really good way of handling this aspect.

Blog
Setting up a blog is a great way of introducing your company and your products or services. Begin by letting people know who you are and what you do. Tell your story. Now share this blog with your potential market. Ask yourself, "what social media platforms are my potential clients interacting with?" it may be Instagram, Twitter or Facebook, they may be on forums or a combination. So if they are hanging out on Pinterest, you need to be there as well.

Business directories
Have you registered your company with online business directories like Google Local, Yell and Scoot? If no, do it now you will be surprised how much this can help search engine rankings. If yes, double check your details are all correct.

Your website is just like having a plant, you need to look after it all the time. Keep it fed and watered and it will bloom.