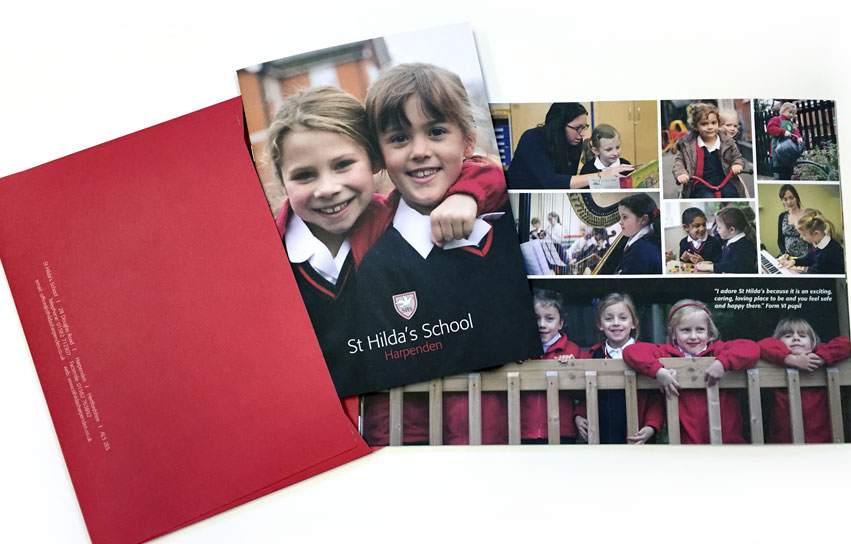 06 Jan

School prospectus design and print

St Hilda's School, Harpenden is an independent day school for girls aged 3 to 11 years of age. The Headmaster, Dan Sayers asked us to redesign their school prospectus with a view to managing the photography, design, layout and print.

Having worked with Dan Sayers previously, we had built up a really good understanding of what the Headmaster was after. The project began back in September 2015, when the team visited the school to get reacquainted with teachers, pupils and the spirit of the school itself.

The Headmaster put a list of images together that he wanted to cover. In doing this, a script began to come together which meant on the day of the shoot in November, we could seamlessly move around the school achieving the best results, with the minimum of disruption.

The Photoshoot
Our photographer John, as always was superb, throwing himself about and making the girls relax. It is those captured moments that can show the girl's delight in learning and fulfilling their potential – in that instant you see the spirit of the school at its best.

During the day we took over 2,700 images, we then chose which photos showcased the school at its best and reflected the journey the pupils make through the school. We ended up with an image bank of 450 photos that, going forward we can supply to the school for their website and for us to use in the prospectus and any other printed materials or adverts.

Prospectus Design
The studio now had the images and the school had supplied the copy. The design team could now put together different designs for Dan Sayers to choose from. We also supplied 3 different front covers. Once the layout was approved we could forge ahead with designing the whole prospectus. Inevitably, there were image and text changes along the way, but by early December we were ready to go to print.

The final prospectus pack consisted of:
• A 20 page prospectus printed on 250/160gsm Vision uncoated stock
• An A4 4 page information leaflet printed on the same material
• A bespoke peel and seal envelope wallet printed on the heavier 250gsm stock.
The printed prospectus pack has a real feel of quality and has given the images a nice depth.

St Hilda's received their new prospectus and were very pleased with it. Prospective parents can see the nurturing environment that comes across on every page.

If you need something similar, please do not hesitate to give us a call. We are a small design studio in Hertford but we have big ideas! Call us for a chat on: 01992 526130.